Are you looking for…
An exercise buddy?
A best friend for you or your children?
A constant companion for your mother or father?
A fuzzy face to greet you after a hard day's work?
A best friend to love you unconditionally every day?
An adopted dog can be all of these things and so much more!
The Bradford County Humane Society is hoping that you can open your heart and home to a shelter dog and adopt. October is National Adopt a Shelter Dog Month.
Every day dogs of various breeds come in as strays to the Bradford County Humane Society. If their owner does not come to claim them within 48 hours, these dogs are available for adoption. Each dog has their own background, and story, but they all need loving, caring homes.
While a lot of people are looking for puppies or small breed dogs, many other dogs tend to get overlooked. Senior dogs or dogs that may need special care are looking for their final forever homes. Pit bull breeds get a bad reputation. BCHS has many pure bred pit bulls or mixed breed pit bulls. Bully breeds can be especially heartwarming and the best companion a human can have.
Two bully breeds that are need homes are: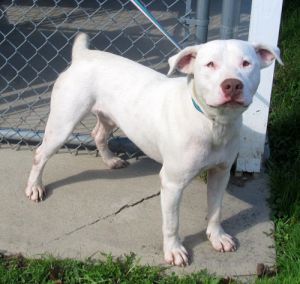 Chaos is a handsome young adult male Am Staff whose dad is Cujo/Uncle Joe. He is a big huggable sweetie pie. Chaos is excellent on a leash and appears to be house trained.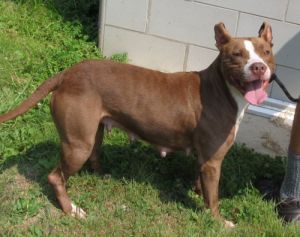 Lindy is an adult female Am Staff. She is very friendly with people and is fine with other dogs. Our trainer is working with her to channel her energy. Lindy has recently been spayed.
Even if you can't adopt a dog right now, there are many things you can do to help homeless pets at BCHS. You can become a volunteer. Come to the shelter, fill out a volunteer application, and attend the next volunteer orientation. Then you can walk dogs, socialize with cats, help clean, and many other things.
Check out all of our other available pets
here
.
For questions, call 570-888-2114.