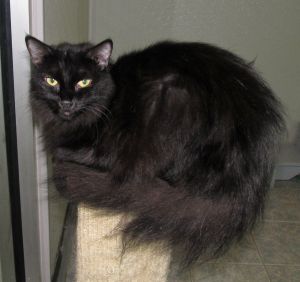 Harriet is our longest term resident and has been at BCHS for 1.5 years. Please help us find her a home!
Harriet is a pretty adult spayed female cat with lovely green eyes. She is a mellow, quiet cat who enjoys being petted but is not fond of being held unless she decides to jump on your lap. She would be an excellent companion for someone who works long hours - she likes to be sociable when she is in the mood, but would also not mind being left alone for long periods of time. She is a fastidiously clean cat.
Harriet was very stressed when she first arrived in March of 2011. For the first few months she did not get along with other cats and was not very sociable. She has been living in our free roam cat room since June of 2011 and now tolerates other cats as long as they don't go our of their way to annoy her. However, she would be happiest in a home with no other cats and no small children. She has tested negative for feline leukemia and had her rabies shot.
Harriet would love a quiet home with a nice cat stand to curl up in. She can often be found snoozing on one of the fuzzy perches in the cat room. If you go in and sit down, she just might decide to jump on your lap for a visit.
You can view a video clip of Harriet on
Petfinder
.