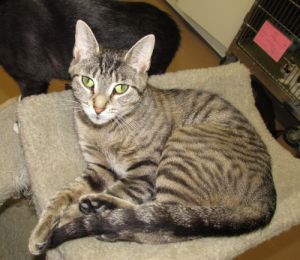 Neeka is a very friendly adult spayed female cat with pretty green eyes. She is a mellow sweetheart who would probably like to be a lap cat.
Neeka especially likes cuddling with kittens and giving them baths. If you visit the cat room, you will probably find her snoozing on the cat stand in a pile of black and white kittens. She had kittens in the spring who have since been adopted, and now it is Neeka's turn to find a nice home. She is a tidy cat who would fit in well in any family. Neeka tested negative for feline leukemia and had her rabies shot.
You can view a video clip of Neeka on
Petfinder
.