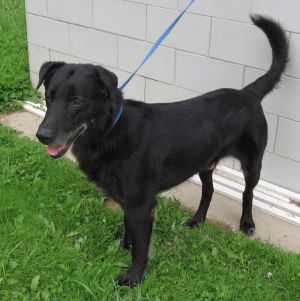 Rock is a very large older adult neutered male mixed breed dog, maybe part Lab and Shepherd. He is very quiet, behaves great on a leash and appears to be house trained. Rock is a strong-willed dog who needs an experienced handler. He is looking for a nice retirement home with no cats, dogs, or small children.
Rock has become much more sociable with people since being at the shelter. He knows the routine of going out to the back yard and will stick with his person without a leash.
He also comes when called, as you can see in his
Petfinder video clip
.