The Bradford County Humane Society is looking for the perfect home for a neutered male Cocker Spaniel named Charlie. He came to BCHS over a year ago and was named Custard at that time. He has been adopted but was returned due to him being too energetic. He was then adopted again but returned due to the adopters moving away and not being able to keep him.
Custard/Charlie was recently groomed by Susan's Groomers in Sayre, PA. He is very happy with his new haircut and really is a happy go-lucky guy.
He is looking for his forever home. This forever home cannot have children, other dogs or cats. He should be adopted by someone that is very diligent with training and not letting Custard/Charlie take over the household. He is familiar with some commands but needs consistent training.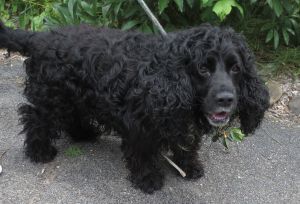 If you meet this criteria and are interested in Custard/Charlie, stop in to BCHS on Route 220 in Ulster, or call 570-888-2114.
Photos: Charlie with Sue after his spa visit and Charlie before grooming.