Are you looking for…
An exercise buddy?
A best friend for you or your children?
A constant companion for your mother or father?
A fuzzy face to greet you after a hard day's work?
A best friend to love you unconditionally every day?
An adopted dog can be all of these things and so much more!
The Bradford County Humane Society is hoping that you can open your heart and home to a shelter dog and adopt. October is National Adopt a Shelter Dog Month.
Every day dogs of various breeds come in as strays to the Bradford County Humane Society. If their owner does not come to claim them within 48 hours, these dogs are available for adoption. Each dog has their own background, and story, but they all need loving, caring homes.
While a lot of people are looking for puppies or small breed dogs, many other dogs tend to get overlooked. Senior dogs or dogs that may need special care are looking for their final forever homes. Pit bull breeds get a bad reputation. BCHS has many pure bred pit bulls or mixed breed pit bulls.
The National Pit Bull Awareness campaign is a nationwide effort to bring positive awareness and attention to the American Pit Bull Terrier and their responsible owners.
To anyone who shares their life with a "pit bull," the need for a national day of awareness for these misunderstood dogs is clear. Constant negative media attention and sensationalized hype that surrounds pit bulls has the breed in the spotlight for all the wrong reasons. The media and public have stereotyped and judged an entire group of dogs, as well as their owners, based on the actions of a few.
National Pit Bull Awareness Day is October 25th and was established as a day to educate and foster positive communications and experiences in the communities in which we and our dogs live. It is an opportunity to be a positive role model for responsible dog ownership, as well as introduce the truth about the grouping of dogs commonly known as "pit bulls" right in your town. Many people only know of pit bulls by what they hear on the news, and they have formed negative opinions based only on that knowledge. BCHS has many pit bulls and mixed breed dogs that are in need of a loving home.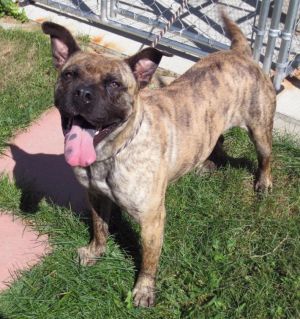 Ziggy is an adult spayed female Terrier - Shepherd mix. She is a very friendly, lovey, waggy girl. She is playful and she likes everyone. Ziggy has been working with our trainer and she knows sit and down, is excellent on a leash, and will stay for 5 minutes. She has started on agility training. Ziggy is a sweetheart looking for a nice home with no other pets. She would love to find a person who likes long walks.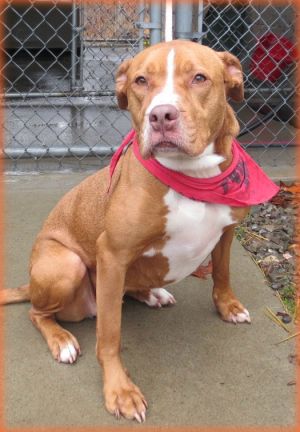 Sable is a 4 year old spayed female Pit Bull mix. She loves to play in water and enjoys a nice belly rub. She gets along with male dogs. If Sable is not already house trained, it would not take much for her to learn, and she will be a great watch dog.
Please open your heart and home to a shelter dog!